ETHlargementPill Is a simple program that changes video memory timings and increases the efficiency of Ethereum mining.
The GeForce GTX1080, 1080ti, Titan X (pascal) and Titan Xp video cards stand out from the entire GTX1xxx line with a special type of video memory - only these four video cards received GDDR5X memory.
GDDR5X memory runs at higher frequencies than regular GDDR5 memory. But along with the increase in frequency, the timings also grow - delays in data transmission.
Initially 1080 and 1080ti were ineffective for Ethereum mining - their performance was the same as 1060 and 1070 respectively. And now, thanks to the efforts of OhGodACompany, a solution has appeared - ETHlargementPill, popularly just a "pill" 💊
Download ETHlargementPill can at this link from our site.
How does the pill work?
ETHlargementPill changes timings GDDR5X video memory, thereby increasing the speed of calculations inside the video card during mining.
Visually, this is a simple console application that does not request or output any data. It can be minimized at any time. The effect of the "pill" is not permanent - the application increases profitability only when it is launched.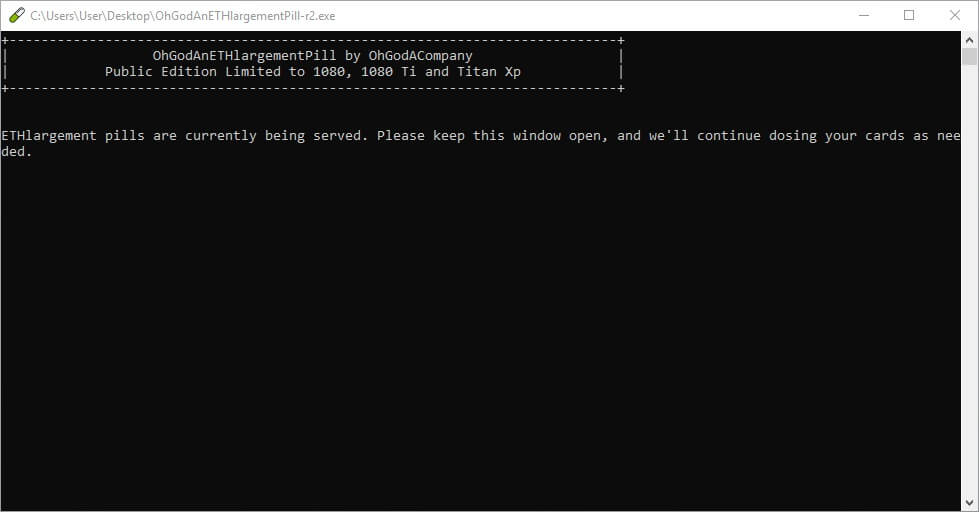 "Tablet" will not work on GTX1050, 1060, 1070, 1070ti and on any other video cards with GDDR5 memory. ETHlargementPill only works with GDDR5X memory.
How to increase the hash rate?
First, start the "tablet", and then turn on the mining. And that's it!
Approximate hashrate values ​​with ETHlargementPill:
GTX1080 - it was 20-25Mh / s - now it is 30-40Mh / s
GTX1080ti - it was 30-35Mh / s - now it is 45-55Mh / s
TitanX, TitanXp - it was 31-36Mh / s - now it is 45-65Mh / s
What algorithms does it work on ETHlargementPill?
The ETHlargementPill application was primarily developed for mining Ethereum on the Dagger Hashimoto algorithm, but it can be useful for other algorithms.
We tested the GTX1080ti with ETHlargementPill on Monero's CryptoNight algorithm. When we launched the pill. The hashrate has grown from 830H / s to 915H / s.
What are the risks ETHlargementPill?
GeForce GTX1080 may experience visual artifacts after launch ETHlargementPill even at completely stock frequencies. If the monitor is connected to a different video card, this does not affect the stability of mining.
Otherwise, overclocking with a tablet is safe, due to the fact that the changes are not permanent and are rolled back immediately after the program is closed.