In this guide, we will show you how to reset BIOS to default settings... This is very useful when your rig won't boot or when you have misconfigured your BIOS settings.
There are 3 ways to reset the motherboard BIOS:
Inside BIOS
With CMOS jumper
By removing the battery
Reset BIOS from BIOS
This method of resetting BIOS settings is the simplest. Follow these steps to reset BIOS:
Reboot or turn on system
Press the button repeatedly F2 or DELETE to enter BIOS
If you are located in EZ modeclick F7 to open Advanced mode
Click the tab Exit
Select an option Load defaults
Save settings and exit (Save & Exit)
Note that not all motherboard manufacturers use the same name or location for the settings, but in general, you should be able to find this setting easily.
With CMOS jumper
This method is not as simple as the one described above, but sometimes you may not be able to enter BIOS. In this case, you need a CMOS jumper.
The CMOS jumper is 3 pins sticking out of the motherboard, 2 of the 3 are covered with a jumper. The normal jumper position is 1-2 or 2-3. Moving the jumper from position 1-2 to 2-3 resets the BIOS.
Follow these steps to reset BIOS using CMOS jumper:
Disconnect system
Find the CMOS jumper on your motherboard
Move the jumper from the default position 1-2 to position 2-3 on 3-5 minutes (some motherboards only need to remove the jumper)
Move the jumper back to default position
Turn on system
Note: For exact instructions, refer to your motherboard manual. You can also find guides online.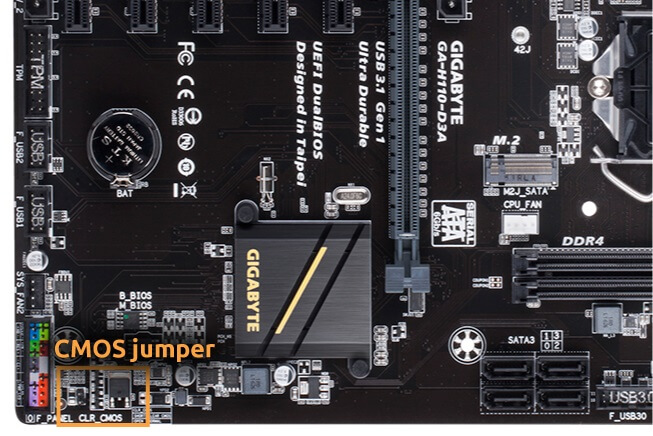 By removing the battery
This is another relatively easy way to reset BIOS settings. It is sometimes easier to find the battery on the motherboard than the CMOS jumper.
Follow these steps to reset BIOS by removing battery:
Disconnect system and disconnect it from power
Find and extract battery from your motherboard
Wait about 5 minutes
Insert the battery back into the motherboard
Turn on system