Recently, there have been many questions about which power supply to use for mining. In this guide, we're going to dive deeper into power supplies.
How powerful should a mining power supply be?
It is important to know how much power your system needs or if you plan on building a mining rig.
How to calculate the maximum power consumption of a system?
Calculate maximum power consumption simple enough.
The first step is to find out the TDP of your graphics card (TDP or 'heat dissipation requirements' is the maximum power consumption of your graphics card) and multiply this value by the number of graphics cards you will be using in your rig. Please note that if you are using different video cards, you need to sum the TDPs of all video cards, since not all video cards have the same TDP.
For example, the TDP of the NVIDIA RTX 3080 video card is 320 W... If you are going to use two of these, the total TDP of the video cards will be 640 W.
After that add another 100 W... This responds to the motherboard, processor, and other peripherals.
In the case above, the maximum power consumption will be about 740 W.
Power supply calculation based on the maximum power consumption of the rig
Once you have calculated the maximum power consumption of your rig, multiply this value by a minimum of 1.25.
The empirical formula looks like this:
Power supply unit power = maximum power consumption of the rig x 1.25
If we look at the example with two RTX 3080s above, we can calculate that the minimum power supply should be at least 925 W.
Connecting multiple power supplies to one mining rig
In case your rig needs a power supply unit for 1600 W, you can instead use two power supplies on 800 W with one rig.
All you have to do is connect the second power supply to the 24-pin splitter.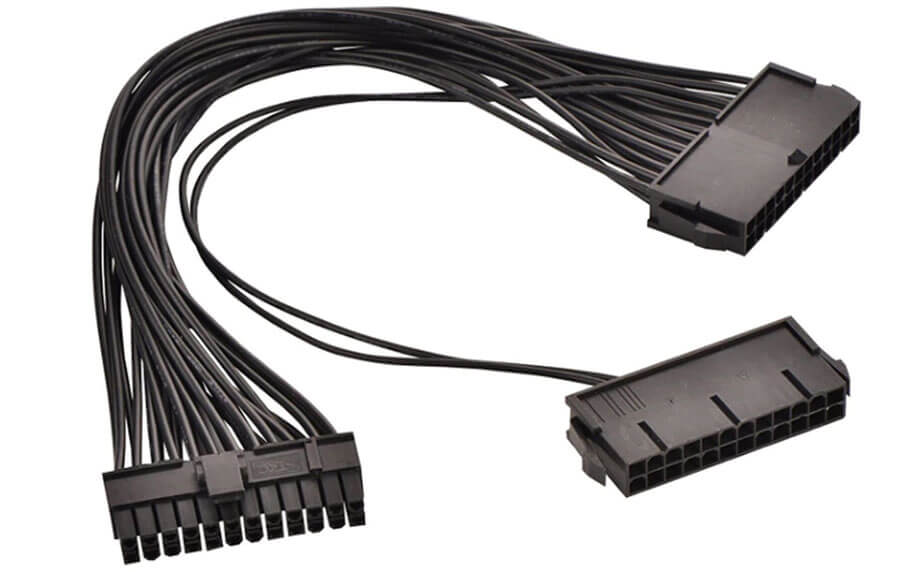 Please note that the power for the video card and the USB riser connected to the video card must come from the same power supply, otherwise there is a risk of component damage.
What should pay attention
Does the PSU have enough PCI-e 6 + 2 cables?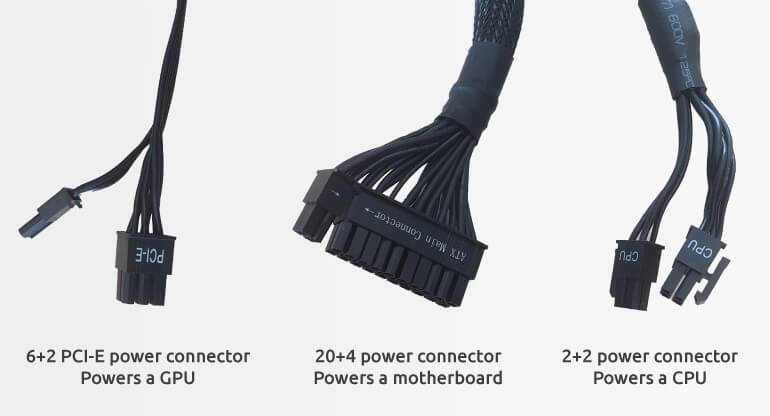 Never use Molex or SATA to PCI-e adapters!
Power supply efficiency assessment
Computer components require direct current to operate. Power supplies convert alternating current to direct current. Efficiency rating is the difference between the power draw from the outlet and the output (routed downstream to power the components).
When reading further, keep in mind coefficient 1.25... We used it earlier to calculate the power of the power supply.
For example, a power supply with 80% efficiency will draw 1000W from the wall outlet, but will only supply 800W of power to the computer. This means that 200 watts of energy is spent on the conversion process.
The table below shows different performance ratings.
| | | | | | | | |
| --- | --- | --- | --- | --- | --- | --- | --- |
| | | | | | | | |
| | Load | 80 Plus | Bronze | Silver | Gold | Platinum | Titanium |
| | 20% | 80% | 82% | 85% | 87% | 90% | 90% |
| Efficiency | 50% | 80% | 85% | 88% | 90% | 92% | 92% |
| | 100% | 80% | 82% | 85% | 87% | 89% | 94% |
We hope that you now have a better understanding of power supplies! Happy mining!