When building a smaller mining farm with two or more separate mining rigs, you can expect some common hurdles like blowing a fuse or dissipating heat and cooling the rigs. In this blog, we'll show you how to deal with these obstacles.
We'll cover four main areas:
Electricity
Heat
Network
Management
Please note that each mining rig is different from the others. The premises have different window arrangements, different electricity installations, etc. You will need to use your imagination and ingenuity to build your personal farm, and the tips in this article are for general guidance only!
Electricity
If you are not a professional, we strongly recommend that you hire a professional electrician as a house burned out due to poor wiring is not worth the few dollars saved!
There are a few basic things about electricity and mining that need to be understood.
1. Almost all the electricity that the rig consumes is converted to heat. If the rig consumes 1000 watts, there will be approximately 1000 watts of heat output.
2. Basic formula for calculation current / ampere (A) Is private capacity (W) и voltage (V)... For example: for a rig with a power of 800 W (220 V): A = W / B = 800/220 = 3,63. This is very important as if the fuse is overloaded it will trip, causing unnecessary downtime for the rig. Never load a fuse to 100%. Always leave about 5% or 10% for reserve.
3. If possible, use the fuse for rigs only. Don't use the same fuse for your freezer or freezer and a couple of other rigs. Freezers and refrigerators consume power only intermittently when needed. This could overload the fuse and trip it. Again, this will lead to unnecessary downtime.
4. When planning, always leave an extra fuse and cable. This will make it easier for you if you want to expand your mining farm in the future.
Heat
As mentioned earlier, the amount of power consumed by the rig will be the same as the heat output. Keep in mind that a rig consuming 1 kW of power will produce approximately the same amount of heat as a 1 kW heater.
How should I cool the room?
It depends on your location. We propose to stop using the air conditioner as it consumes a lot of electricity. Of course, in some cases, if the room has no windows or if loud fans would disturb the neighbors, an air conditioner would be a reasonable choice. The cheapest way to cool a room is to open windows and use mosquito nets on them. It is an energy efficient way of supplying your rigs with clean air. Again, this method is effective only where there is enough natural air flow. Also, this method may not be the safest. Leaving windows open for potential burglars is not the smartest choice.
We recommend that you install cold zone и hot zone... This means physically separating one side of the rigs from the other. Fresh air enters the room into the cold zone, then passes through the barn and leaves the room on the other side. This prevents hot air from being mixed with cold air.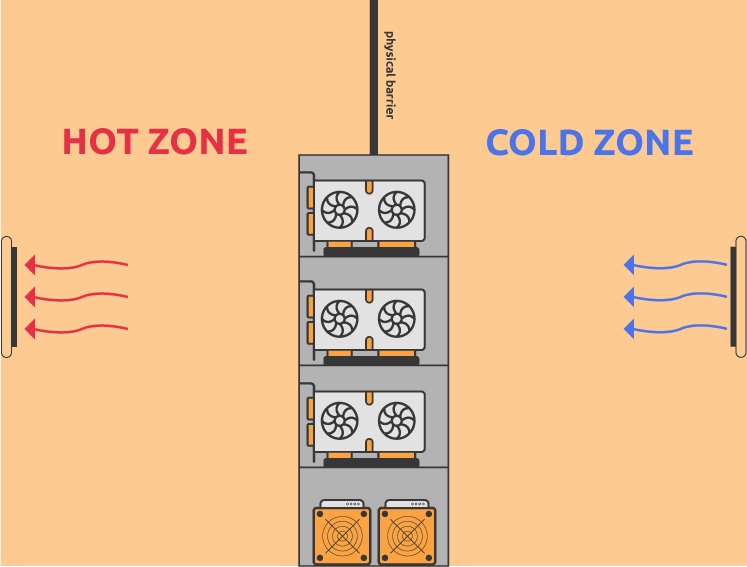 How much air flow is needed for 1 kW of rigs?
It should be noted that it is more important to utilize hot air from the barns and premises than to try to cool them down. This is why the use of an air conditioner is not recommended. For 1 kW of rigs, you will need approximately 300 m3 / h of air flow to keep the room at 30 ° C at an outdoor temperature of 20 ° C. You can use this data to get an approximate amount of airflow for your farm. If you want to build a mining farm that consumes 5 kW, you need approximately 1500 m3 / h of air flow.
Network
Mining itself requires a very small amount of network bandwidth. Riga with 6 video cards needs about 50-70 MB per day. Please note that most mining software requires updates, which may use more bandwidth.
We do not recommend using 4G internet via SIM cards. While in theory it should work fine, there are certain limitations. 4G internet is also not stable and its use can lead to frequent disconnections.
We also We recommend using cable connections instead of WiFi wireless... This may require more wiring work, but solves WiFi and disconnected issues (especially when using wireless USB adapters).
Management
Another important aspect of mining farms is stability and rig optimization. You want to keep your rigs stable, not shutting down or rebooting, resulting in unnecessary downtime, and at the same time you want to be able to overclock your graphics cards and monitor each device separately from a remote location. The best option is hiveOS.
hiveOS a universal mining platform that allows you to efficiently and without unnecessary hassle set up and control processes on thousands of GPUs and ASICs in one place. Everything you and your team need to keep farms at their peak performance
One solution for all systems
Easy installation and customization tool. Download and install our software and your farm infrastructure will automatically detect your mining devices and add them to your dashboard. Install now installation in one click.
All in your hands
Control your devices from a single dashboard. Track hashrate, online statuses, GPU errors, team activity, pool configurations, and power consumption. Remote access from anywhere in the world. Troubleshoot and reload rigs remotely or perform bulk upgrades across your entire farm.
Ease of use
Fine tuning your workers. Fine-Tuning Your Workers Manage and customize each rig individually, be it one device or thousands. Switch combinations of pools, wallets and coins on the fly with flight sheets. Create overclocking profiles for your GPUs and change miner configurations throughout your farm in seconds.
Будьте в курсе
Telegram and Discord notifications, keep your team updated with our smart notifications. Distribute specific tasks for each team member individually. Get notified about your system's performance, temperature readings, hashrate drops and more.
Register for free, and you can immediately download hiveOS.